DigitalOcean Free Tier | Best Method and Amazon AWS free tier VS DigitalOcean VS LightNode
---
DigitalOcean Free Tier in 2023| Best Method and Amazon AWS free tier VS DigitalOcean VS LightNode
Digital Ocean Free Tier
Start your free trial with a $200 credit for 60 days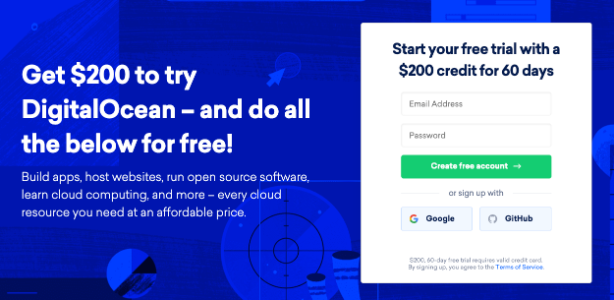 DigitalOcean offers you a $200 DigitalOcean free package credit for 60 days. Additionally, with the Droplet plan, Object Storage, Block Storage, and Load Balancer, you can use it on all of the services DigitalOcean offers. They offer a free trial to help make creating amazing things on DigitalOcean as easy to use as possible!
Get DigitalOcean $200 credit for 60 daysopen in new window
PRO TIP:

Does Digitalocean have a free tier?

No, DigitalOcean does not have a free tier. All new accounts include a free $200 credit to use within the first 60 days. After that, you will be charged the hourly rate for any droplets you create.
DigitalOcean Free Tier Best Method
What is the pricing for DigitalOcean once the free credit is depleted?
Once you use up your free credit, DigitalOcean offers pricing plans that range from $5 to $80 per month. For basic web hosting tasks like WordPress and regular server tasks, the $10 per month droplet may provide suitable specifications. It is generally advised against using the smaller $5 droplet.
How can I sign up for the trial version without a credit card?
The common option is to use PayPal for payment verification. If your PayPal account is linked to a verified bank account, you can proceed without the need for credit cards like Visa or Mastercard.
Alternatively, you can use the provided link and validate your payment information using a prepaid debit card available for purchase at local convenience stores.
I signed up for the free trial, but I was charged $5. Why?
If you select PayPal as your payment method, you must deposit a $5 credit into your DigitalOcean account before accessing the free account credit. If you choose to pay with a card, such as Visa, whether it's a credit card, debit card, or prepaid card, you will not be charged unless you exceed the established limits.
Is this offer truly valid?
Yes, it is. The $100 free credit promotion has been available for several years, and there is a possibility of it continuing in the future. Previous promotions offered $10, so the worst-case scenario might involve a reduction in the amount in the future.
Is there a way to access the promotion without a payment card or PayPal?
Unfortunately, there are no "hacks" to bypass this restriction. The easiest solution might be to purchase a prepaid Visa or another payment card from a nearby convenience store. This way, you can avoid any charges.
Does the free account credit have an indefinite validity?
You need to utilize $60 within 100 days or two months; otherwise, the free credit will expire. However, you can employ the aforementioned methods multiple times to extend the free trial period beyond 60 days.
Where can I find the DigitalOcean free trial?
The DigitalOcean free trial is available in the form of free credits or free tier DigitalOcean accounts.
Amazon AWS free tier VS
Let's start by comparing DigitalOcean and AWS. these three popular cloud computing platforms offer different types of hosting, storage, and data processing services over the Internet. So, which one is best for you? It depends on your needs and requirements.
Services
One of the main differences between these platforms is the range of services they offer.DigitalOcean and LightNode focus primarily on Infrastructure-as-a-Service (IaaS), such as virtual machines, storage, and networking. On the other hand, AWS offers a wider range of services, including IaaS, Platform as a Service (PaaS) and Software as a Service (SaaS). This means that if you're looking for a more comprehensive solution that includes things like software and developer tools, AWS may be the better choice.
Pricing
DigitalOcean and LightNode are known for their low prices and simple billing models with a pay-as-you-go approach.AWS has a more sophisticated pricing structure with various pricing tiers and discounts available depending on your usage. So if you're on a budget, DigitalOcean and LightNode may be the best choice for you.
Performance
DigitalOcean is known for its fast and reliable performance, and LightNode is known for its high-performance global premium cloud servers with networks optimized for cloud workloads.AWS also offers high-performance services with a range of options to optimize performance based on your needs.
Easy to use
DigitalOcean and LightNode are known for their ease of use. AWS also has a user-friendly interface, but the large number of services and options can make them more complicated to navigate. So if you're not familiar with cloud computing, you may find DigitalOcean and LightNode more approachable.
That said, DigitalOceanopen in new window and LightNode are excellent options for those looking for a simple and affordable solution for hosting and storing data. LightNodeopen in new window is an excellent choice if you want to host multiple data centers around the world. AWS is a much more comprehensive platform and offers a wider range of services, but they can be more expensive and complex. Therefore, it depends on your specific needs and requirements.
FAQs | DigitalOcean Free Tier
How do I sign up for the free trial?
If you are eligible, your free trial will start when you sign up for DigitalOcean. You will need a credit card so that we can verify your identity, but you will not be charged or billed during your free trial.
Who is eligible for the free trial?
New customers to DigitalOcean with a valid credit card are eligible. You are eligible if you have never been a paying customer of DigitalOcean and have not previously signed up for the free trial.
What can I use the free trial for?
You can use the free trial for any infrastructure services provided by DigitalOcean, for example, all Droplet plans, Spaces Object Storage, Block Storage, and Load Balancers.
What are the terms of service for the free trial?
The free trial requires that you access the DigitalOcean Terms of Serviceopen in new window
Are there any limitations with the free trial?
The $200, 60-day free trial provides free credit up to $200 that must be used within 60 days. If you go over $200 in infrastructure services during the 60 days, any overage charges will be charged to your credit card.
After 60 days, any active infrastructure services running on your account will be charged at the standard pricing, as described on the DigitalOcean websiteopen in new window.
More VPS